Back in the mid-1950s, Rolex had this genius idea: a watch made for diving. So, they birthed the Rolex Submariner. Picture this – 1954, Baselworld show, and bam, there it was, the first Submariner (aka reference 6204). This bad boy could handle water like a champ, resistant up to 100m. It wasn't just a watch; it was a game-changer. The Submariner quickly became the go-to luxury sports watch, the kind everyone recognizes and wants on their wrist.
Over the years, Rolex has kept things fresh and fancy. Now, you've got the "date" and "dateless" versions, packing the latest 3230 and 3235 calibers. And get this – they can handle water like a boss, up to 300 meters (1000 ft). Imagine, from 1954 to 2022, the Submariner has seen its fair share of makeovers and tweaks. It's like a style evolution that never gets old!
Back in 1953, Rolex rolled out its very first Submariner, hitting the public stage in '54 with two versions: 6204 and 6205. Now, here's the mystery – no one's quite sure which one came first. Picture this: nearly identical, golden hands, sleek lacquered dial, and that unmistakable "Submariner at 6 o'clock" detail (or not – some say it's because they couldn't fit "Submariner" on the dial, but who knows?).
Despite the head-scratching, both the 6204 and 6205 hold the title of the first-ever Submariners, confirmed by both Rolex and the die-hard fans.
Hold onto your hats because in the same year, Rolex threw another player into the mix – the 6200. This one's a showstopper, with its standout Mercedes hand, a chunky winding crown (Big Crown), and the rare 3-6-9 dial. It's basically collector gold – a must-have for the seasoned pros.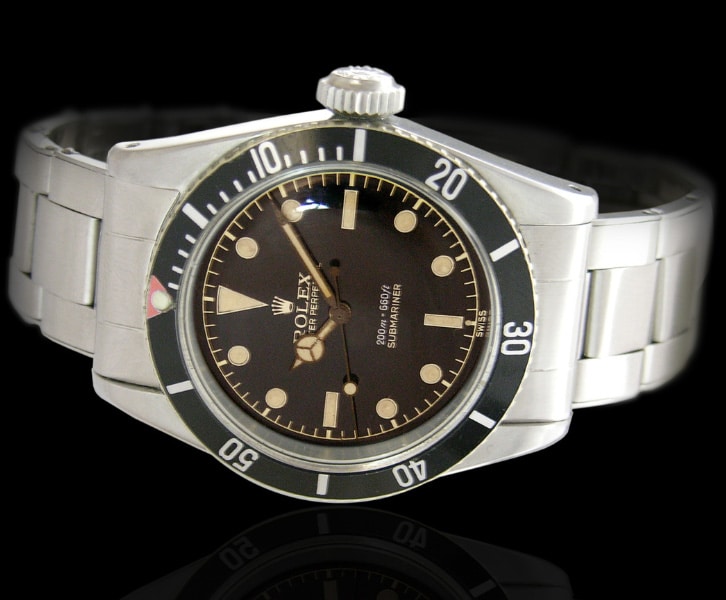 Rolex 6538 "Big Crown" – ©2023 superclonerolex.io
Fast forward a bit, and Rolex introduces the 6536 (small crown) and the 6538 (Big Crown). They also decided to up their movement game, giving it the snazzy reference 1030. Now, here's a tidbit: the 6536 has a regular 1030 caliber, but its sibling, the 6536/1, boasts a fancier 1030 COSC caliber. Things get a bit extra from here on – all these watches now sport Mercedes hands and a dial that tells you just how deep your watch can go.
Now, why the sudden dive into diving watches? Well, back in the day, making these watches wasn't just about tech prowess; it was also about leaving a mark in history. Each model was a statement, a mix of cool tech and killer marketing. And Rolex? They were the masters of that game.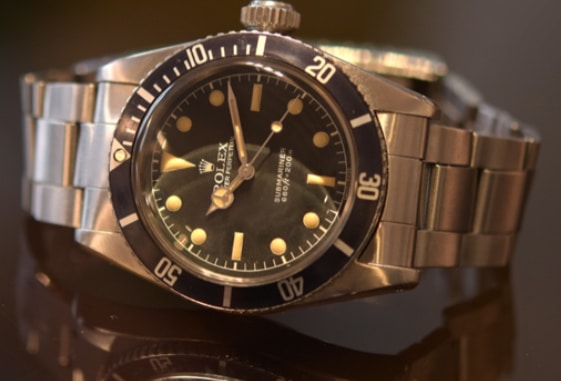 Rolex Submariner 5510 "Big Crown" – ©2023 superclonerolex.io
Now, stepping into the early '60s, Rolex unveils the 5508 (Small Crown) and the 5510 (Big Crown). But hold onto your hats because dial changes start doing the cha-cha, and it took a bunch of experts and collectors some serious detective work to sort them out. They basically created a whole encyclopedia of classifications, making it a bit of a brain teaser for the uninitiated.
If you're diving into Submariner history, keep your eyes peeled for lacquered dials with that fancy gilt printing on models like 6200, 6204, 6205, 6238, 6236, 5508, 5510, 5512, and 5513. Some of these dials even sport a mix of gold and silver. Thankfully, there are trusty sites out there doing the heavy lifting of classifying these dials. Check out the link in this article for the full scoop.
Now, let's talk 5512 (COSC version) and 5513 (non-COSC) – the dynamic duo. These were the last to rock lacquered Gilt dials. Spot the difference from their predecessors? They've got these cool protective shoulders flanking the crown. And here's a fun fact: there were three different shoulder styles before settling on the Square Crown Guard we see today. It went from Square to Eagle Beak and finally Pointed Guard, in case you're into that level of detail!

In the early '60s, Rolex decided to ditch radium, the stuff they used on their indexes and hands. Instead, they embraced a zinc sulfide-based luminophore, jazzed up with tritium. The cool part? Tritium is way less radioactive than radium, so safety first!
Now, if you're on the hunt for some cool Submariner 5512 dials from that era, check out "5513mattedial." It's like the go-to spot in the industry – they've got the lowdown on all things 5512 and 5513 lacquered dials. Go ahead, dive into the details!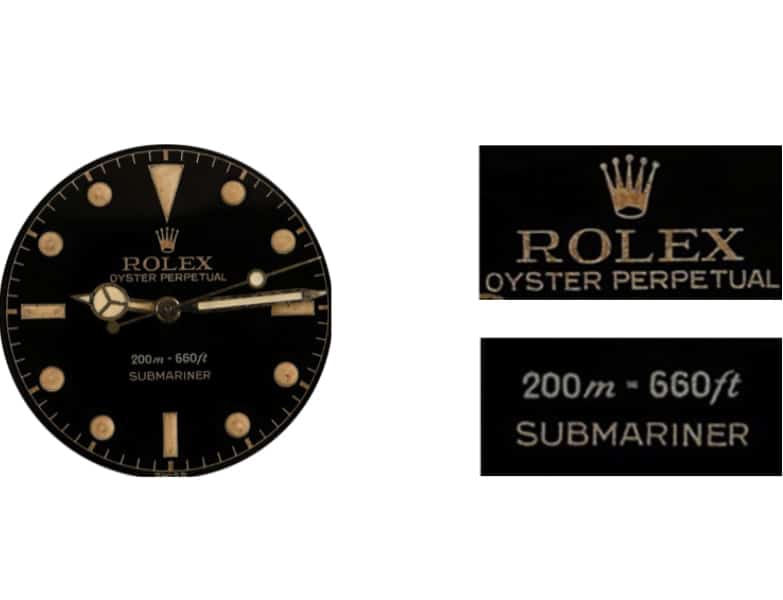 Rolex Submariner 5512 "2 lines" non-COSC | Production years 1959 – 1960 | 2 lines printed in silver & gold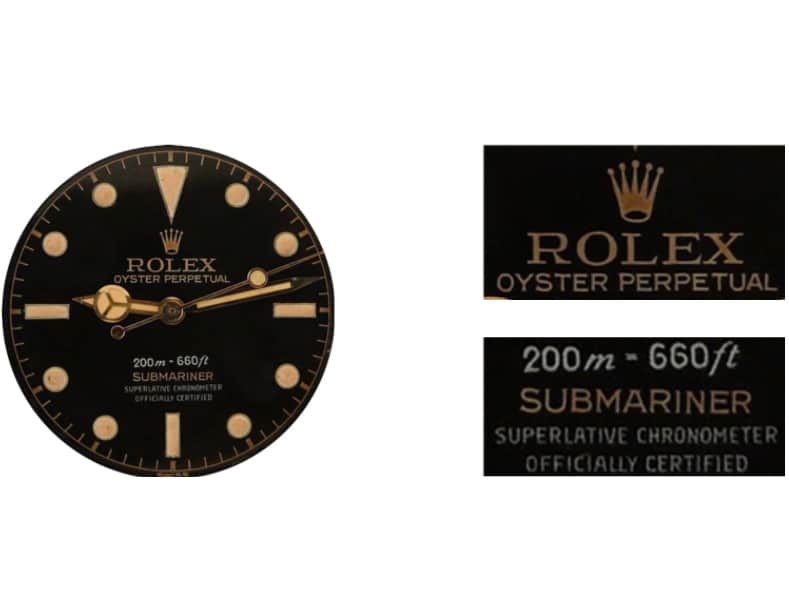 Rolex Submariner 5512 "4 lines" | COSC | Production years 1959 – 1960 | 4 lines printed in silver & gold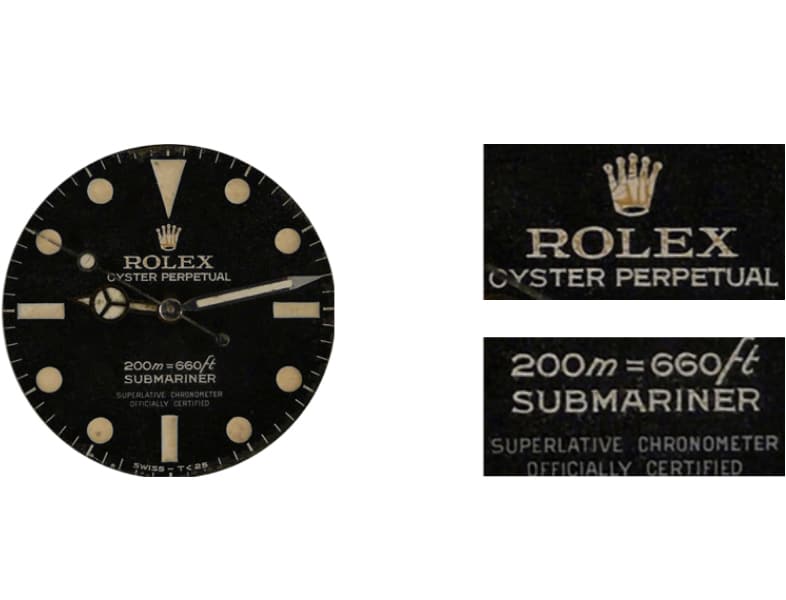 Rolex Submariner 5512 "Bart Simpson" | After several versions, here is the last gilt dial produced in 1966, named "Bart Simpson" because of the shape of the crown. Note that the bottom of the dial is marked "Swiss – T25" (tritium) instead of "Swiss".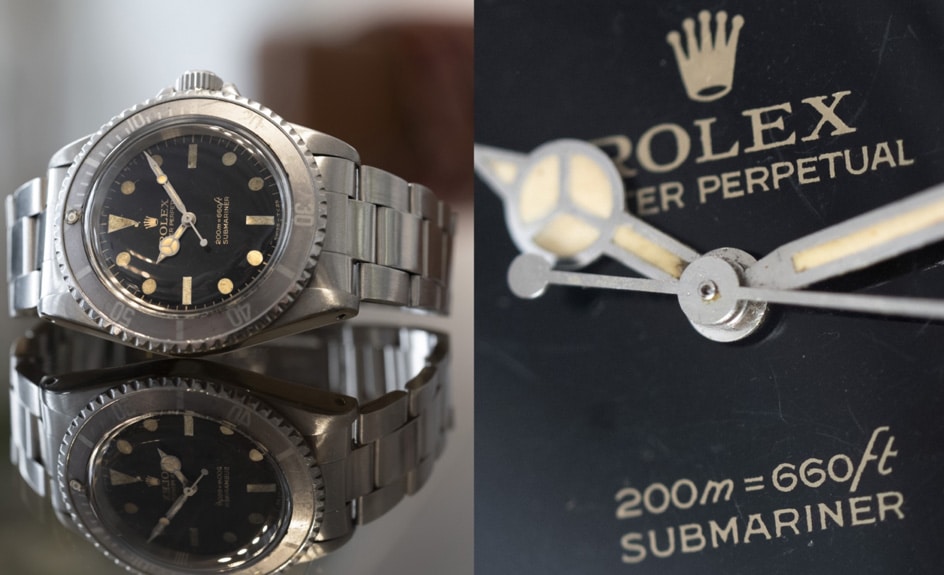 Rolex 5513 "Bart Simpson" Dial – © 2023 Superclonerolex.io
So, imagine it's 1968, sixteen years into the Submariner saga. Rolex, feeling a bit fancy, decides to throw a date into the mix and introduces the Submariner 1680. But here's the twist – it's not Rolex's first dive into the world of date-displaying watches. Two years earlier, they had the Sea-Dweller, a watch crafted exclusively for the pros, hitting the market in 1967.
Now, why the sudden date addition to the Submariner? Well, the Sea-Dweller, with its date feature, might have sparked some envy among the watch-loving public. Rolex, sensing the demand, decided to give the people what they wanted – a date on their iconic Submariner. It's like they unleashed a date-displaying sibling to the Sea-Dweller.
The first Submariner 1680, rocking what's now a collector's gem – the "Red Submariner" dial. Imagine the Submariner name in bold red letters, making it an instant classic. From 1968 to 1975, this "Red Submariner" had its own evolution with six different dial versions (MK 1 to 6), with the rarest being the MK1, a real gem that graced wrists for just over a year. It's like diving into a piece of timekeeping history!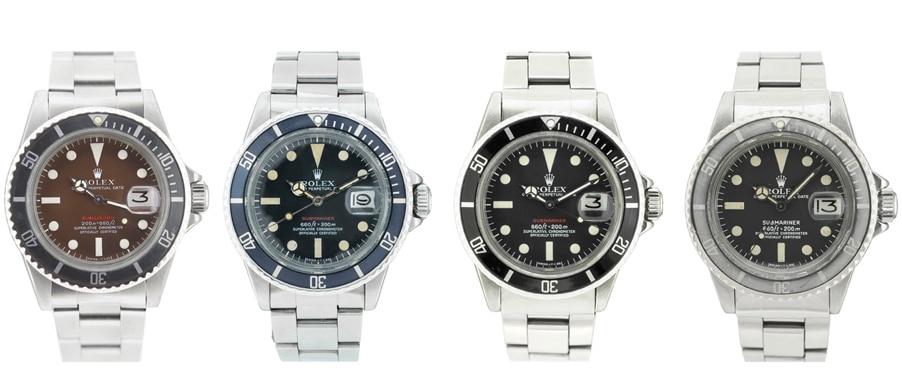 Rolex Submariner Red dial MK2 "tropical dial", "MK5 Red", "MK6 Red" & "White dial MK1" © 2023 – Superclonerolex.io
Fast forward to the end of 1975, and the iconic red dial bids adieu, along with the title "Red Submariner," making way for the Submariner 1680 "White Dial," a classy twist. This beauty stayed in production until 1979, and under the hood, you've got the trusty automatic winding 1575 caliber, a familiar face from the Datejust and GMT-Master. Rolex made it even better by adding the "hacking seconds" function, giving you precision to set the time just right.
Now, let's talk about 1979 – the year Rolex decided to shake things up by dropping the very first Submariner in solid yellow gold. The Submariner Date took a detour from its "tool" watch roots and embraced luxury. Some say this move marked the shift from a functional tool watch to a mass-market luxury piece. Regardless, the 18K solid gold Submariner Date was a hit, especially in Italy and the US.
Fast forward another 40 years, and the Submariner had its fair share of glow-ups. In 2003, Rolex celebrated its 50th anniversary with a special edition, the Rolex Submariner-Date (16610 LV), rocking a green bezel and Maxi dial with larger indexes. 2010 marked the end of this edition. In 2008, major changes came – larger case size, a Cerachrom bezel, and a new quick-set clasp.
Hold tight, Baselworld 2012 brought us a new kid on the block – the ref. 114060, replacing the ref. 14060M. Say hello to the "Maxi Case," "Chromalight" index, ceramic bezel, blue parachromic balance spring, and the nifty "Glidelock" bracelet.
But the real head-turner came in 2020 when the Submariner decided to grow up a bit, going from a 40mm to a 41mm diameter. Love it or not, it's a change worth noting. And there's more – two new movements, 3230 (no date) and 3235 (date), stepping into the spotlight. Time will reveal if they match up to their predecessors' reliability, but hey, it's Rolex – they usually know what they're doing. The Submariner, always evolving, always making waves in the watch world.
Complete list of Rolex Submariner models and years of production
Current references:

Discontinued models: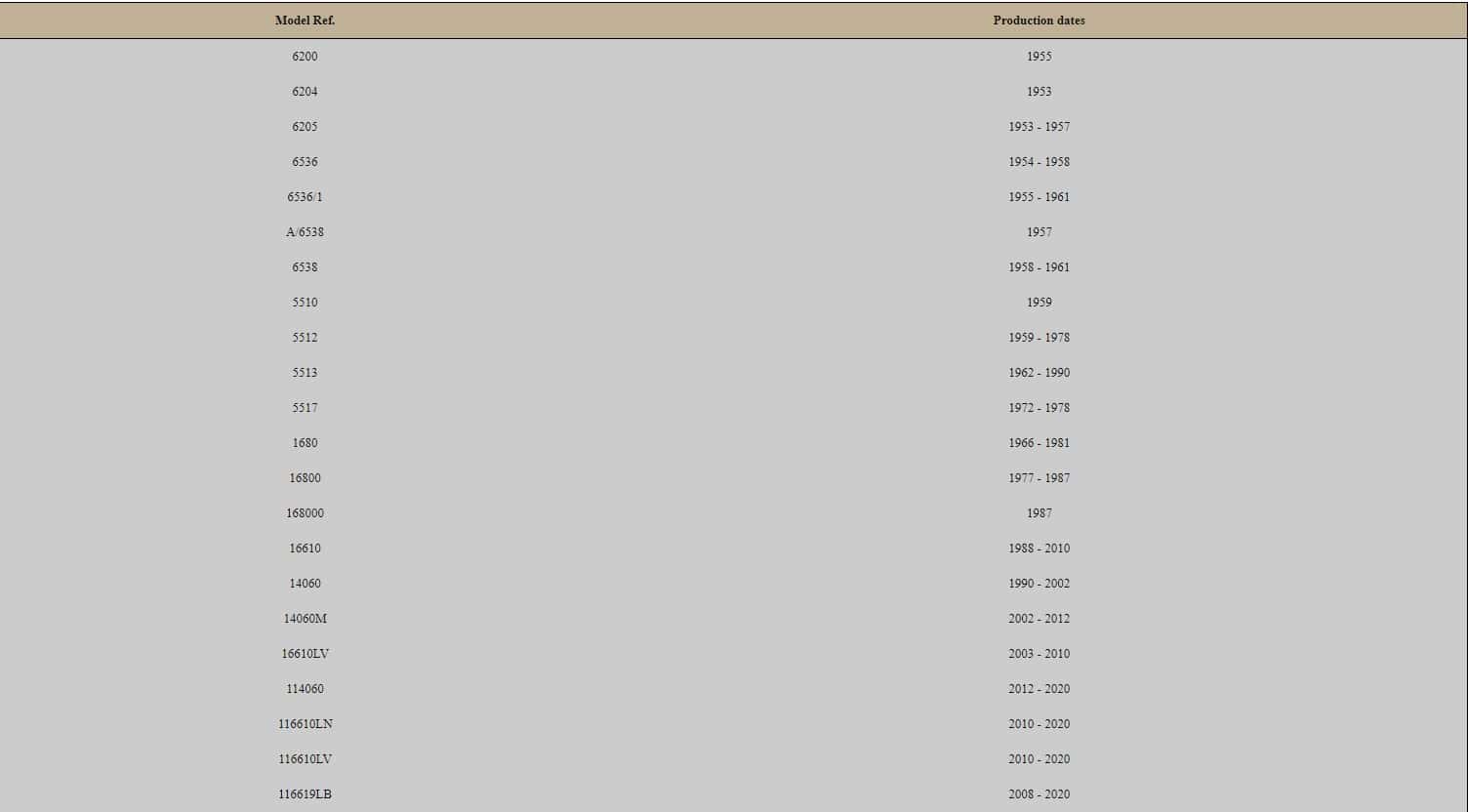 Enter the iconic partnership between James Bond and the Rolex Submariner – a legendary fusion of style and espionage.
It all kicked off in 1962 when Sean Connery graced the screen with a Submariner in "Dr. No." Bond emerged from the sea, sleek and sophisticated, with the Submariner making its cinematic debut. It wasn't just a watch; it was a statement piece, embodying Bond's blend of elegance and action.
This stylish affair continued over the years, with different Bond actors maintaining the tradition. Whether it was Roger Moore, Timothy Dalton, Pierce Brosnan, or Daniel Craig, the Submariner became an integral part of Bond's ensemble, seamlessly marrying sophistication with adventure.
Beyond the movies, this partnership transcended into cultural icon status. The Submariner's journey with Bond is more than a cinematic collaboration; it's a symbol of resilience and sophistication, etching itself into the annals of watch history. The Bond-Submariner duo isn't just a connection; it's the genesis of a legend, where style and intrigue converge in the most iconic fashion imaginable.

The Rolex Submariner had its shining moments in several James Bond films. Sean Connery sported a 6538 in his initial four adventures. In "Dr. No" and "From Russia With Love," it flaunted a leather strap – a favorite of spy Matt West. However, in "Goldfinger" and "Thunderball," the leather gave way to a NATO-style nylon strap. Worth noting, the Department of Defense's iconic "G10" strap only came into play in 1973, and it sported an admiral gray without stripes.
George Lazenby rocked a 5513 with an Oyster bracelet in parts of "On Her Majesty's Secret Service." Roger Moore followed suit in "Live and Let Die" and "The Man with the Golden Gun," but he opted for a 7206 "riveted" bracelet.
Timothy Dalton wrapped up the Rolex era as Bond, donning a Submariner Date in "License to Kill." It's likely a Rolex Submariner 16800 or 168000, given the film's 1988 shoot. And then came a Bond watch shift – starting with "GoldenEye," 007 switched to an Omega Seamaster, marking a new chapter in Bond's wristwear saga.
Our Submariner collection